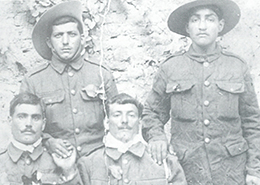 The community of Apsiou participated in a series of fights to protect itself. The inhabitants of the village took part in the Balkan Wars, in both World Wars, in the E.O.K.A. Fight, in the 1963 events and the 1974 war.
Its participation in the Balkan Wars was signified with the sacrifice of Kyriacos Kyriacides, who died fighting for the liberation of Ioannina. His name is written on the heroes' monument, raised in the churchyard of Agia Napa in Limassol so as to honor all fighters that took part in the Balkan Wars.
The inhabitants of Apsiou were actively involved in both World Wars. To be more explicit, many of them joined the Greek army during the I' World War. Some of them are A. Kyriacou, Christoforos Christoforou, Iacovos Voskarides, Costis Panagi-Fiakkas, Georgios Kourtelis, Pollis Ioannou, Michael Kavazis and many others.
Paulos Melas, Demos K. Pelentros, Chrysanthos Voskarides, Demetris Apesiotis, Gegoris K.Fiakkas. Georgios Sotos, Euagoras Paphitis, Michael Managritis, Polykarpos Anastassi, Paulos Sytlianou, Kritonis Demetriou, Apesiotis Petros, Nausika Papadopoulou, Andreas Polli and Pollis Ioannou fought during the II' World War and experienced the cruelty of war and captivity.
The difficulties of war are clearly depicted in the narration of a II' World War veteran, Pantelis I. Paphiti. Some moving fragments of his narration follow: "During remission we went to Nauplio and then Kalamata, where we got arrested by Germans-May 1941. Nine thousand people were transferred to Korinthos and then to Germany (Brooks) by train, experiencing great difficulties". He then adds "I am lucky to be alive". The Russians set us free in May 1945.
The village also contributed to the Liberation Fight 1955-1959 during English colonialism. The community of Apsiou hosted many wanted men and at the same time served as an alimentation centre for the fighters.
The love and devotion for their country are indicated by their involvement in E.O.K.A., the National Organisation of Cypriot Fighters. Explicitly, Charalambos Stylianou and Kypros Michaelides suffered while kept as hostages in the detention rooms of Nicosia. Polis Ioannou, resident of the village helped construct a hideaway for Digenis in Limassol and kept it until he died.
Apsiou also participated in the 1963 events and in the 1974 war. Commando Vassos Vasileiou was wounded in Pentadaktylos while Demetrakis Apesiotis died in keryneia. Christodoulos Symeonides, a policeman who died during the coup originated from Apsiou.
Apsiou has undoubtedly has shown a fighting spirit when and where required. Those hard and difficult years are still in the memories and narrations of the inhabitants.
Source:
"National Struggles" from Apsiou-Argyroupoli, Fraternization, Apsiou 2005